Guidance Office
Reopening soon.
Guidance Office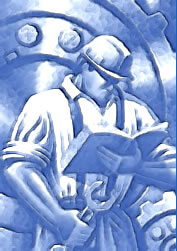 Thanks for visiting. Due to your startling and overwhelming response throughout the past two years, across the U.S. and internationally, the Guidance Office must enlarge and revise this website to handle your requests, submissions, and traffic. Please accept our apologies -- the only way we can serve you better is not to serve you at all for a while. Please bookmark this link among your favorites and return soon. Like most things educational, our tasks are endless, but our personnel is limited, our budget even more so, perhaps our time most of all. Still, we hope to be up and running routinely again sometime later this year (2008). See you then!
Karyn Wahlstrom, Editor
GuidanceOffice.org
---

Karyn Wahlstrom
1952 - 2008
It is with deep sadness and regret that I announce the sudden death, by heart failure, of Karyn Wahlstrom, GuidanceOffice.org's editor and prime mover. We intend to continue what Karyn was working on here, and to republish in the fashion she envisioned the revised and updated website. It will be delayed, however, until sometime during 2010. It will be dedicated to the memory of Karyn and her efforts. Please visit again at your convenience to see if the site is back up and running. Thank you.
Jim Hogan, Acting Editor
GuidanceOffice.org
GOOGLE | BING | YAHOO! | EXIT HERE!